"The Social Impact Network is a decentralized ecosystem for impact investments that connects decentralized finance and real-world asset projects to create real social impact and deliver above-average yields to investors. Compared to traditional portfolios, the impact investment offered by our platform is open fund based, easily tradable, transparent, and secure due to the integration of DTL and IoT devices into the funded projects," says Dr. Nikola Markovic of Social Impact Network as we talk with him, Marina Petrović and Robert Pašičko of UNDP AltFinLab, and Rawad Rizk of UNDP Lebanon about their project collaboration in the DLT4EU accelerator programme.
The DLT4EU accelerator programme identifies and connects distributed ledger technology (DLT) entrepreneurs with leading public and private sector organisations for social and public good.
DLT4EU is led by a consortium comprised of Metabolic, Digital Catapult and Ideas for Change, with direct support and advice of the European Commission's Joint Research Center.
---
Dr. Nikola Markovic is the CEO and CoFounder of Social Impact Network, the place where impact investors make a measurable social and environmental impact with their investment. Social Impact Network is a startup that was built during the DLT4EU accelerator program. With his expertises and enthusiasm in innovation and technology pushed the project from idea to realization. He is keen to bring the Social Impact Network further on the market and enable funding for green energy in emerging markets more accessible.
Rawad Rizk is Project Manager at UNDP Lebanon and team member of UNDP Alternative Finance Lab. He has been managing Live Lebanon, a crowdfunding platform aiming at linking the diaspora to the development effort in Lebanon with over 70 projects implemented successfully. As part of the Alternative Finance Lab team, Rawad Rizk supports the implementation of Tadamon, a NGO empowerment for poverty reduction program, which is providing capacity building and funding to CSOs in 57 countries. Rawad Rizk is a member of the digital crowdfunding academy. an online training program, as well as managing the campaign for the Alliance to Fight Avoidable Blindness AFAB, a program that provides treatment to fight avoidable blindness in 13 countries in Africa.
Marina Petrović is the Innovative Finance and Technology Expert at UNDP Istanbul Regional Hub as well as Cofounder of the Alternative Finance Lab (AltFinLab), which is an internal startup, run out of UNDP Istanbul Regional Hub for Europe and CIS. The AltFinLab is exploring how to revolutionize development finance, through innovation, digitalization and technology. Since the AltFinLab launched in 2016, Marina Petrović has been working to provide hands-on technical expertise, advisory support and market intelligence to over 45 UNDP offices, national partners and governments around the world.
Robert Pašičko is the Cofounder of the UNDP Alternative Finance Lab (AltFinLab). He supports innovation in alternative finance mechanisms and in low carbon development in over 40 countries globally. He focuses on finding ways to make green energy affordable through blockchain, crowdfunding and community financing. Robert Pašičko also cofounded the UNDP Crowdfunding Academy, a training program for crowdfunding which has been implemented in over 20 countries worldwide and has created over successful 50 campaigns. He is an evaluator of blockchain projects funded by the European Commission.
---
Sebastian Klemm: Which deep economic reforms do we need to tackle, in order to arrive at regenerative & intragenerationally just societies that manage to live within planetary boundaries?
Dr. Nikola Markovic: In today's economy, emerging countries are often left behind, without sustainable and effective solutions for their development. The implementation of the Sustainable Development Goals (SDGs) in these countries is often short-termed and inefficient.
Public innovation projects are proven avenues to increase awareness and accelerate development. However, due to a lack of accessibility and accountability for both citizens and organizations, civic participation is a major drawback for their implementation.
Distributed ledger technologies, in short DLT, can provide decentralized platforms for a collaborative economy and promote digital infrastructure that facilitates increased civic participation and engagement. New financial mechanisms based on DLT would stimulate civic investment in areas such as education, health, energy, agriculture and women smallholders. This innovative type of inclusive and collaborative economy would encourage sustainable development in emerging countries and contribute to equality in societies.
Rawad Rizk: I believe we are reaching an irreversible or a breaking point when it comes to the environmental damage to our planet. Raising awareness to change behavior is not enough. We need tough reforms and regulations that enforce laws to protect nature.
Marina Petrović & Robert Pašičko: With regard to our Digital Impact Coins challenge, necessary reforms could be the regulation of digital technologies, crypto and new banking systems that are citizen led and owned, which could also help with the distribution of power, as we could have more people actively participating in the global economy who were previously unbanked, as well as people living without ID.
Sebastian Klemm: Why do you participate in the DLT4EU programme?
Dr. Nikola Markovic: The DLT4EU programme offered a unique opportunity for accelerating the implementation of the DLT solutions that we propose with the Social Impact Network. Moreover, the challenge proposed at the beginning of the programme by challenge owners, about incentivizing financial contribution of citizens for social and environmental projects, was perfectly aligned with the core solution based on blockchain technology that we are offering for impact investment within our Social Impact Network platform.
Rawad Rizk: The DLT4EU programme is a learning opportunity to gain hands on experience by engaging with experts in the field of distributed ledgers and blockchain. The programme will help us move from traditional donation based projects to impact investment.
Marina Petrović & Robert Pašičko: UNDP ALtFinLab is part of the innovation team led by UNDP Istanbul Regional Hub and has been working with innovative digital technologies for development over the past 5 years.
We understand that the interdependence of our world has been experienced so starkly by so many people at the same time. COVID-19 and the response to it has shown us the realities of the interconnectedness of our system, with one action leading to secondary and tertiary consequences across the globe.
Participating in DLT4EU helps us to reshape and think differently about our approach to tackling development challenges by exploring and leveraging new and novel technologies.
Sebastian Klemm: What have been inspiring moments to you personally during both your work together as a Virtual Field Lab team and within the entire DLT4EU programme so far?
Rawad Rizk: I have been inspired by the collective work and the countless brainstorming sessions we had for overcoming many obstacles. Working with people from different geographical areas, backgrounds and cultures to solve common problems was satisfying.
Dr. Nikola Markovic: During the accelerator programme, we have experienced both dramatic and inspiring moments. However, I would like to highlight one that changed everything.
The day after a dramatic explosion in Beirut, Lebanon, we held our scheduled weekly call within the Virtual Field Lab team and got first hand information from UNDP Lebanon about the situation in Beirut.
It was a very shocking realisation that due to the lack of sustainable energy, doctors were performing surgeries using phone lights. Furthermore, the planned pilot site for our project was destroyed and the implementation of the entire project was uncertain.
But, during this meeting we had one of the most productive brainstorming sessions, built stronger connections and bonded as a team for a common goal. Out of the disaster and hopeless situation came an engine for successful project development.
Could you elaborate as to how your particular project can support the recovery of Lebanon, particularly on site in Beirut following the local explosions and destructions in August 2020?
Dr. Nikola Markovic: The explosion in Beirut combined with COVID-19 amplified the already existing problems in Lebanon, and demonstrated the urgency for our solution. Our Social Impact Network can support the recovery of Lebanon, particularly to provide sustainable energy to facilities such as hospitals and schools, by providing access to funds that would be used to build solar PV plants.
Sebastian Klemm: What social and environmental challenges does your DLT4EU project address exactly?
Rawad Rizk: The goal of our pilot project is to encourage renewable energy solutions and to provide financial means to beneficiaries who need these solutions. Shifting to clean and renewable energy will protect the environment by reducing greenhouse gas emissions. It is a healthier alternative for communities.
Take Lebanon as an example, where citizens rely on expensive and polluting private electricity generators that cause great harm to their health and the environment. Installing solar PVs instead will reduce their bills, protect the environment and improve their well-being.
Marina Petrović & Robert Pašičko: In terms of socio economic recovery from COVID-19, in many countries, such as Lebanon, financial viability is the weakest dimension of sustainability, whether due to shifting donor priorities, new legal obstacles, or the emergence of greater economic challenges. This has occurred since the COVID-19 pandemic began and countries and donors scaled back their funding to address COVID-19. Investments shifted to supporting development efforts in Syria and other war-torn regions and to direct implementation activities, rather than funding local organizations, startups, or companies to do so. Finally, in many places, a deteriorating economy and limited options for domestic funding have increased reliance on foreign funds while intensifying competition among organizations for those funds.
Concerning the COVID-19 socio economic recovery in Lebanon in particular, it shows that the currency devaluation reached a record losing more than 80% of its value which jumped from 1500/$ to 9000/$. Lebanon was also hit hard by the Beirut port blast which is the third largest blast in history. The losses incurred are estimated at 10B$. More than half of the population is below the poverty line and the unemployment rate has reached 40%. The situation is rapidly deteriorating and is reaching a tipping point. Lebanon is now facing a major energy crisis. With the lack of USD the government will not be able to import fuel oil used to operate the power plants and private generators. Power rationing will soon reach its highest level. Currently, the government is supplying less than 12 hours of electricity per day. Citizens are relying on expensive and highly polluting private generators to fill the gap. The power cuts will heavily affect the hospitals and health centers. With an average of 5000 new COVID-19 cases, hospitals have reached their full capacity with only 60 ICU beds remaining. Many of those hospitals were affected by the Beirut port blast which left them hanging in the dark.
Dr. Nikola Markovic: Above all the financial support is the key for enabling citizens of Lebanon and other developing countries to have access to sustainable and renewable energy, as Rawad and Marina have already mentioned. Traditional impact investment could become an approach to generate positive social and environmental impact alongside a financial return. However, low level of trust and transparency, sophistication of impact measurement practice, suitable exit options among others, are still preventing it from scaling.
Sebastian Klemm: How do you apply distributed ledger technologies in your project to help solve these challenges for the public good?
Rawad Rizk: With our pilot project we are building an online solution to connect potential investors with beneficiaries who would like to install solar power systems. Blockchain technology offers a trustworthy solution in this regard, safeguarding the interests of all parties involved.
Marina Petrović & Robert Pašičko: A Digital Impact Coin or SI Token can serve as an economic incentive model mechanism, and thus encourage positive engagement for public benefits. This mechanism also encourages a long-term relationship that can be extended across ecosystem members who share common values, as well as be passed between community generations.
Dr. Nikola Markovic: The Social Impact Network is a decentralized ecosystem for impact investments that connects decentralized finance and real-world asset projects to create real social impact and deliver above-average yields to investors.
The first impact investment fund offered via Social Impact Network is a Renewable Energy Fund. Compared to traditional portfolios, the impact investment offered by our platform is open fund-based, easily tradable, transparent, and secure due to the integration of DTL and IoT devices into the funded projects. The latter enables the measurement and tracking of the energy produced and based on that calculates the return on the investment.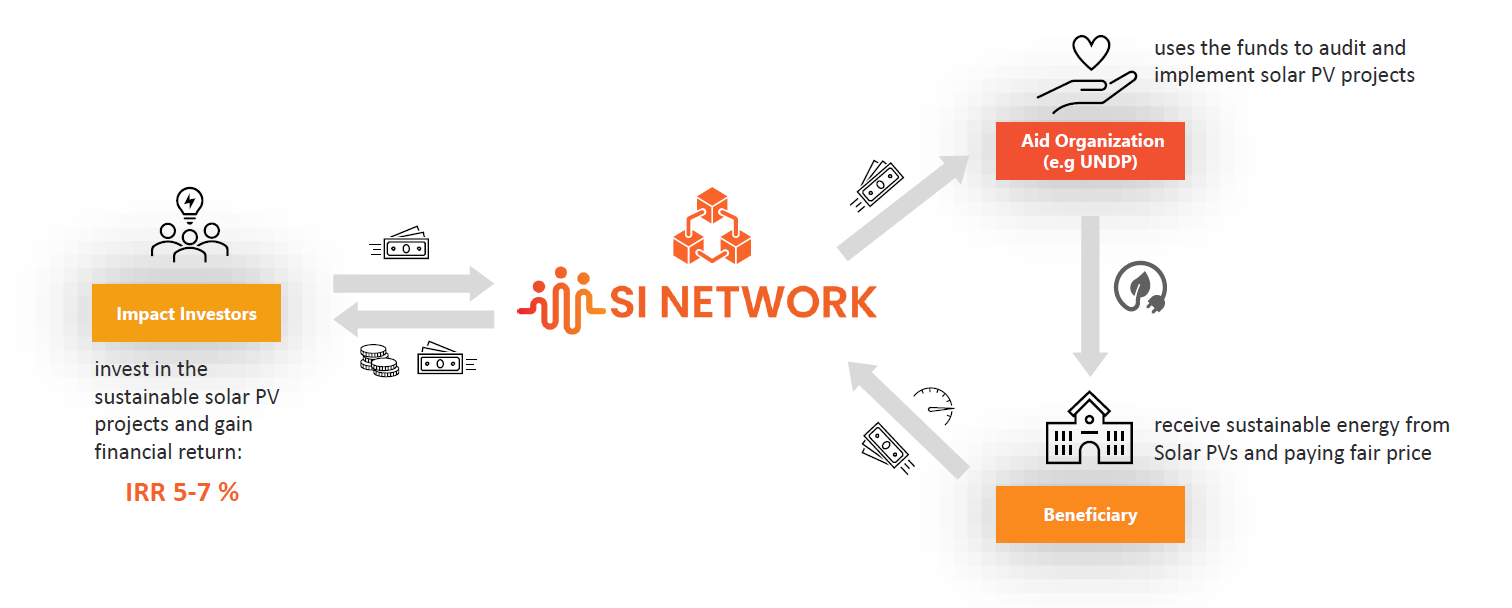 The new impact investment model, called Tokenized Measurable Impact Investment, can engage more people in financing and supporting the social impact project, e.g. electrification with renewable energy, in emerging markets. The interoperability of these tokens with financial institutions such as banks enables its integration into their digital portfolios and provides a wide range of potential for investors.
UNDP Lebanon, as project coordinator, supports vulnerable beneficiaries such as schools and hospitals in Lebanon with site assessment for solar PV plants and by proposing these projects on the platform. The project proposed by UNDP Lebanon is funded by impact investors through SI Tokens, governance tokens of the Social Impact Network. In this way, the project coordinator directly benefits from the sustainable financing model for the solar PV plants and the beneficiaries get easy access to sustainable energy.
This is how it works:
Step 1. UNDP identifies and makes an assessment plan for renewable energy projects with social impact. The chosen projects are proposed on the Social Impact Network platform.
Step 2. Impact investors buy the SI Tokens directly through the platform or through banks and become part of Social Impact Network.
Step 3. Funds are used by UNDP to implement the proposed project. Contractors for the project implementation will be selected through a competitive public tender process managed by UNDP.
Step 4. The IoT device sends data from the installed solar PV plants via blockchain, and the data is transparently available on the Social Impact Network platform.
Step 5. The electricity is paid by the beneficiaries to the Social Impact Network, and the payouts are distributed to the impact investors based on the token ownership.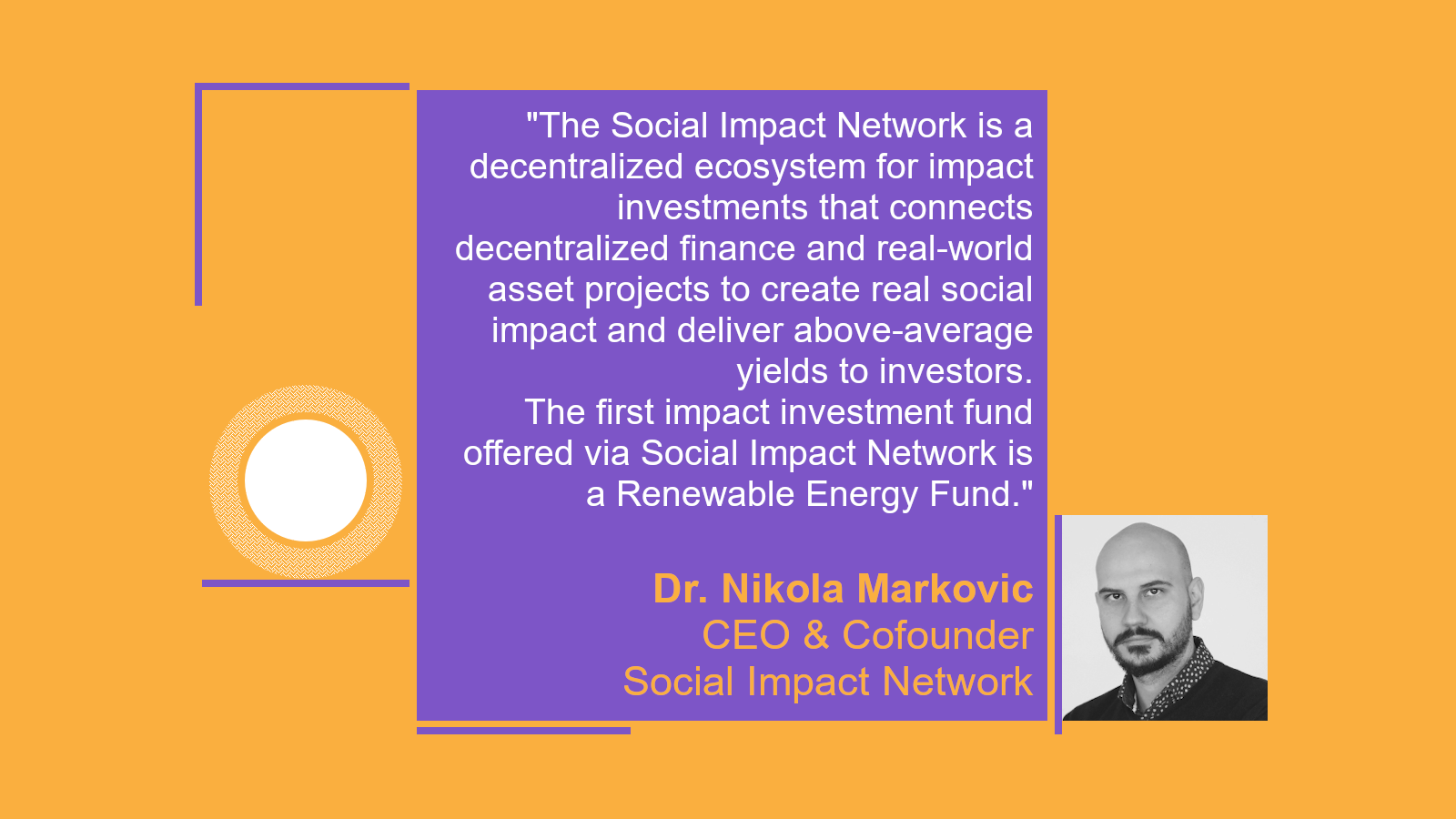 Sebastian Klemm: What have you been developing so far throughout the DLT4EU accelerator programme?
Rawad Rizk: Thanks to the DLT4EU accelerator we have developed a better understanding of tokens and blockchain technologies.
Marina Petrović & Robert Pašičko: As a result of our gain in understanding, we have created a system solution and technical platform together with the Social Impact Network.
Dr. Nikola Markovic: As a result of our weekly meetings with the challenge owners of UNDP & AltFinLab as well as with DLT4EU coaches, we designed a tailored solution, the Social Impact Network, and fully developed it during the DLT4EU accelerator timeline. Early 2021, we will have implemented our solution in an operating environment in Lebanon with real customers.
In addition, we have also created the full legal framework for our Proof of Concept and the next phases. Our Social Impact Network components developed during the timeline of the DLT accelerator include:
A mobile ready responsive platform tested with end users.
A fully operational tokenized fund with all functionalities.
The interconnection of an IoT device placed on the solar PV plants for measuring.
Blockchain technology for storing impact data like energy produced and the CO2 reduction.
Click here to visit the Social Impact Network website. Image © Social Impact Network
---
Sebastian Klemm: What particular qualities of the DLT4EU accelerator distinguish this programme in your opinion?
Rawad Rizk: The DLT4EU programme is well organized and structured. The responsible colleagues do a good follow up, which I believe will yield successful results.
Dr. Nikola Markovic: The key quality of the DLT4EU is in an interplay of access to highly skilled mentors, participation in carefully tailored bootcamps, and active contribution in Virtual Field Lab concept. The Virtual Field Labs in particular, as a joint venture between challenge owner and the venture team, is a way to successfully implement cutting-edge technology to overcome a real challenge. In addition, each step during the development was followed and discussed with the mentors so that the Virtual Field Labs were independent in decision making but guided towards successful implementation.
Marina Petrović & Robert Pašičko: One of the particular qualities of DLT4EU is that it is directly supported by the European Commission. Such support is often the biggest shortcoming of similar programmes, which are creative in design but abstract in implementation as they lack the political angle and support on the policy, legal, regulatory and funding fronts.
Sebastian Klemm: Following your participation and insights so far: What evidence of positive impact and benefits of the DLT4EU accelerator do you see already?
Rawad Rizk: I believe the positive impact and benefits will be clear after we finalise the Proof of Concept and implement the first pilot.
Dr. Nikola Markovic: We are in the early stage of the implementation. However, the technical aspect of the PoC is fully tested and it is ready for the market. After realisation of the first pilot project, we are expecting to scale Social Impact Network by including regional UNDP hubs. It is very clear that urgency for new financial inputs in emerging markets can accelerate the whole market of impact investment. Our mission is to further incentivize financial contribution by establishing a new standard for impact investment that guarantees full transparency and inclusiveness. .
Marina Petrović & Robert Pašičko: There may be even potential of scale up for other challenge owners.
Sebastian Klemm: How will you sustain your engagement and project development beyond the final presentations at the European Commission in March 2021?
Rawad Rizk: We are planning to create a partnership with the Social Impact Network team and test our solution within one UNDP country office and later on expand it to other countries.
Marina Petrović & Robert Pašičko: Furthermore, we can see a potential scale up through Tadamon, a NGO empowerment for poverty reduction programme.
Dr. Nikola Markovic: The relation that we have built with UNDP Lebanon during the DLT4EU programme is the foundation for our future cooperation. Our solution has the potential to disrupt the impact investment sector and create tangible social and environmental impact not only in Lebanon but also in other emerging countries. We look forward to seeing this happen.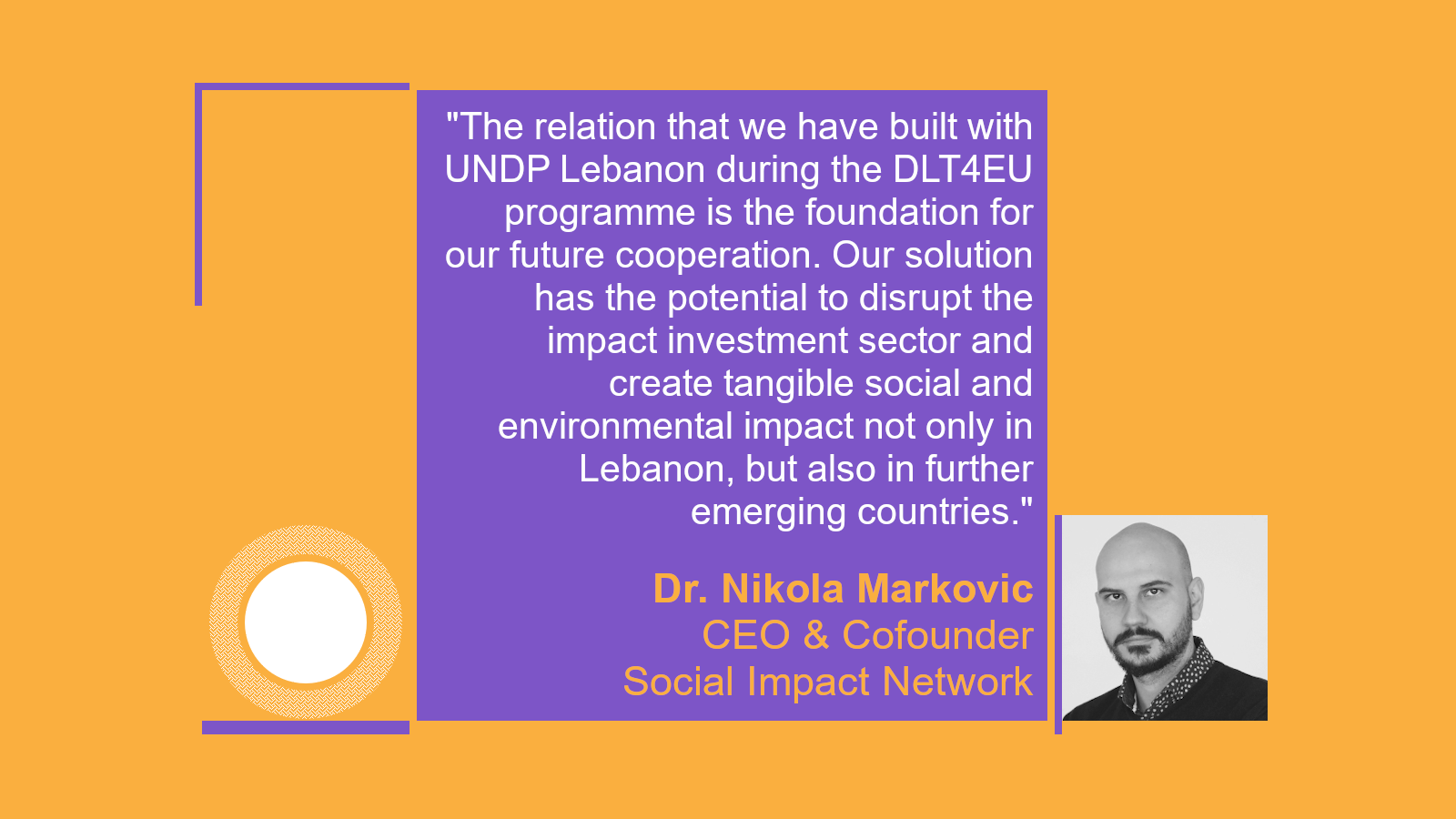 ---
Further readings:
---