"Why shouldn't public sector organisations benefit from collaborations with SMEs in the same way as others such as corporates do? We aspired to build a programme that would help grow awareness of the public sector's eagerness to interact and adopt those technologies in order to improve their services to citizens. We also hoped it would help SMEs address those markets that are often difficult to access for them," says Pierre Baisle as we speak with him, Katy Ho and Dr. Robert M. Learney from Digital Catapult about their contributions to the DLT4EU accelerator programme.
The DLT4EU accelerator programme identifies and connects distributed ledger technology (DLT) entrepreneurs with leading public and private sector organisations for social and public good.
DLT4EU is led by a consortium comprised of Metabolic, Digital Catapult and Ideas for Change, with direct support and advice of the European Commission's Joint Research Center.
---
Katy Ho is the Head of Innovation Practice for Future Networks and Future Focus at Digital Catapult. She was the lead for acceleration programme design for DLT4EU.
Dr. Robert M. Learney is the Head of Technology for Distributed Systems at Digital Catapult. He was responsible for co-creating the DLT4EU programme, and is one of the technology mentors on the programme.
Pierre Baisle is the Head of Innovation Practice for Artificial Intelligence and Distributed Systems at Digital Catapult. He headed the open call design & process and Digital Catapult programme delivery team for DLT4EU.
---
Sebastian Klemm: Which deep economic reforms do we need to tackle, in order to arrive at regenerative & intragenerationally just societies that manage to live within planetary boundaries?
Katy Ho: We need to shift to focusing on shared value creation, this involves long term thinking on what success looks like and continue to widen the definition of stakeholders to involve the communities and environment in which organisations operate. This requires a huge amount of collaboration and drive on many levels and for different stakeholders to coalesce on a common purpose.
Robert Learney: The first and perhaps most important reform is to re-think our economy, where zero-sum behaviours that create winners and losers, monopolies or failures, have to be re-imagined from a more socially-minded, collaborative point of view. It is a very difficult, and potentially scary subject to tackle. Everything in capitalism and our global experiences with communism teach against this approach. But there is hope that better use of technology to build evidence-based trust and new interconnections will allow us to carve a new route forward.
Pierre Baisle: When it comes to innovation, pragmatism, frugality and common sense seem crucial to me in order to feed any sustainable and value generative innovation process. A lot of our work consists in supporting businesses in trying out and learning iteratively things that will allow them to truly develop sensibly. We aim to ensure they don't waste time and resources on creating useless products or approaches at scale. Any economic reform that connects us to these principles, beyond innovation, will only help. Maybe a good start would be to redefine what economic success means, without killing ambition and passion for technical progress in the egg?
Sebastian Klemm: How do you at Digital Catapult approach and apply digital technologies to tackle aforementioned societal challenges?
Katy Ho: Through our innovation programmes and activities we bring together different parts of the ecosystem to align on a common understanding of a challenge, present the art of the possible and the potential of digital technologies, and determine the best collaborative route forward. We also have an ecosystem approach so it's about the impact of technology adoption for different stakeholders and what it can unlock for the economy and society as a whole.
Robert Learney: I come from a tech-first point of view. I am deeply passionate about the potential for distributed technologies to enable this vision of a more interconnected and valuable human future. I like to apply an experimentalist mindset to exploring problems. Where do we not yet have answers about these technologies, what questions must we answer to build trust in them and grow their adoption, and so how do we design experiments to get those answers and prove our hypotheses.
Pierre Baisle: We address the full spectrum of stakeholders you can find in innovation under the technologies we cover. Our drive is to connect any innovation process to an existing or arising real problem that cannot be solved currently with efficiency using traditional methods. The "need", "problem" or "challenge" truly is first. Our job falls more in the "applied innovation" category than in the "research" one. That requires a 360 view of ecosystems, and a belief in the fact that tech we haven't applied yet to certain things could have a part in improving the status quo. The question is around which place is the right one, and how to support its adoption despite the unknowns.
---

---
Sebastian Klemm: The UK parliament has placed Catapults at the centre of its investment in innovation infrastructure. Could you elaborate on the mission of Digital Catapult in the context of the wider Catapult Network? As part of this, how does Digital Catapult help develop regional strengths and opportunities across the UK?
Robert Learney: Digital Catapult is the flagship for all advanced digital explorations across the Catapult network. Each Catapult exists to grow the economy through its applied expertise, and we often work in close partnership as sister organisations whenever joint opportunities arise to combine our deep sector, e.g. Satellite Applications, Connected Places. Digital Catapult is already well connected across the UK, with centres in southern and northern England and in Northern Ireland, and our activities and impacts reach widely across the country.
Sebastian Klemm: What ideas and aspirations led you throughout the design and development of the DLT4EU open call and accelerator programme?
Katy Ho: The aspiration is to bring together parts of the ecosystem that can benefit from strategic partnerships that can solve challenges in digital citizenship and circular economy. It's about showcasing the potential of DLT to organisations who are purpose-driven, working with DLT innovators to further their development and open up new opportunities, and in the end create meaningful collaborations to tackle real-world challenges.
Robert Learney: The aspiration was to improve the public visibility of the potential of DLT to solve challenges in digital citizenship and the circular economy, and to learn about the hurdles this technology has to overcome along the way. We knew we would have to nurture a handful of carefully curated collaborations, with defined challenges, but most critically the engagement of real-world challenge-owning organisations.
Pierre Baisle: Why shouldn't public sector organisations benefit from collaborations with SMEs in the same way as others such as corporates do? Europe has a wealth of cultural and political differences to "play" with, and the public sector is sometimes seen as slow moving, or last in the queue when it comes to adopting emerging technologies. We aspired to build a programme that would help grow awareness of the public sector's eagerness to interact and adopt those technologies in order to improve their services to citizens. We also hoped it would help SMEs address those markets that are often difficult to access for them. Finally we expected that it would teach us, and the wider ecosystem key lessons so that others can take it forward or be less anxious about trying out.
---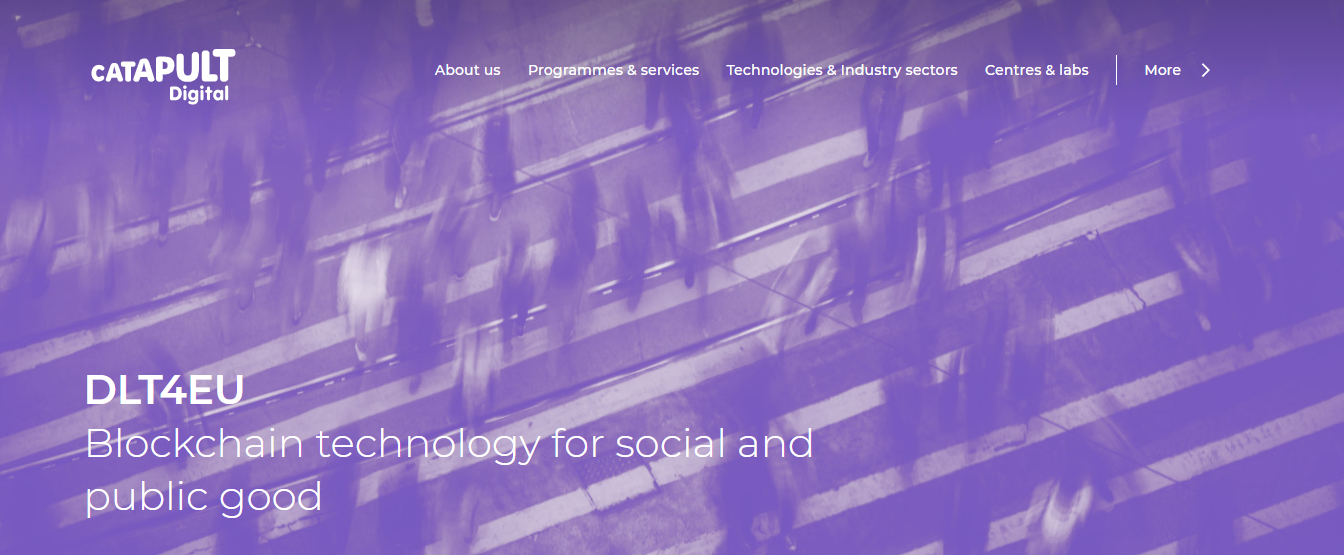 ---
Sebastian Klemm: What particular qualities of the DLT4EU accelerator distinguish this programme in your opinion?
Katy Ho: The combination of DLT4EU being purpose-driven, challenge-led, and practical makes the programme very effective. The programme is helping to solve real-world challenges in an agile and collaborative way, with clear outcomes that can be scaled across the ecosystem.
Robert Learney: This accelerator was built with collaboration and practical experimentation in mind first and foremost. DLT has its strength in coordinating individual stakeholders around collective actions, and we needed real-world organisations with challenges of this nature who were brave enough to step up and be willing to try out cutting edge experimental solutions to their problems.
Pierre Baisle: This accelerator's ambition is probably what makes it special and compelling. It required a leap of faith from the challenge owners, agility from the startups, and constant focus on the overall vision from all, including the DLT4EU team. The bottom line is that tangible innovation is not out of reach anymore for those who have participated, and that the programme helps all of us realise that.
Sebastian Klemm: In a previous interview, Lynn Foster elaborates on the use of tokens as rewards within their DLT4EU project, where spending the tokens in neighborhood businesses encourages local awareness and more cycles of local economic activity, an 'economic multiplier' which increases local resilience.
Next to DLT4EU, which other projects have you conducted at Digital Catapult where you leverage advanced digital technologies – like collective fractional ownership, purpose-driven token or other – to foster regenerative practices and resilience in societies?
Robert Learney: We previously undertook one early exploration of tokenisation with a demonstration system on the Ethereum blockchain that allowed startups to allocate IP rights to co-founders. We have since moved away from all tokenised and economic explorations because we don't yet feel the market and regulatory conditions are ready to accept these radical transformations. There are many reasons for this, not least of which are the lack of safe custodial options for traditional businesses, little liquidity between token and fiat markets, and jurisdictional variability on regulation and taxation.
Sebastian Klemm: The DLT4EU programme evolves around the focus areas of "Circular Economy" and "Digital Citizenship". What characteristics of distributed ledger technologies make them particularly suitable for meeting social and environmental challenges attached to these sectors across Europe?
Robert Learney: These large challenges will only be solved by improving trust and coordination between multiple independent stakeholders. DLTs possess a number of intrinsic properties well matched to these challenges:
The use of consensus algorithms to ensure the ledger maintains a single view of current state and historic stateful information even against purposeful efforts to cause inconsistencies.
Distribution between multiple stakeholders, alongside the responsibilities for maintaining and finalizing stateful information, enlarges the attack surface to prevent any single actor from modifying data without significant collusion.
Appropriate selection of cryptographic methods can be used to prove the existence and awareness of critical information at a given moment in time.
Sebastian Klemm: Aggregated personal data, its analytics, subsequent placed individualised advertisements and thus provoked conversion rates have most recently disregarded voter's personal privacy and assumingly tampered the 2016 United Kingdom EU membership referendum.
Having investigated the use of data analytics in political campaigns with her office, UK Information Commissioner Elizabeth Denham, CBE in a 2018 Report to Parliament states: "Citizens can only make truly informed choices about who to vote for if they are sure that those decisions have not been unduly influenced. The invisible, 'behind the scenes' use of personal data to target political messages to individuals must be transparent and lawful if we are to preserve the integrity of our election process."
Being asked about how distributed ledger technologies may help to increase resilience within societies, Javier Creus from Ideas for Change says in our previous interview: "Identity and data self management supported by DLTs will surely empower citizens to develop new capacities and roles."
What in your view can be done with regard to citizens' data self management to preserve the integrity of elections and campaigns in the future, in order to make sure that voters are truly in control of the outcome? In how far do "take back control" measures therefore necessarily have to go beyond adbusters and also eye collectively governed, community owned (social) networks to provide an integer basis for citizens' data self-management? Could blockchain based token enable service platforms to become owned by their core stakeholders?
Robert Learney: I think we are attacking the wrong end of the problem here. The greatest problems with the UK electoral system are not the occasional influence of disinformation, but numerous issues around voter disenfranchisement through the gerrymandering of districts, a lack of proportional representation, and a lack of more direct democracy. So I am not convinced that a lack of data ownership is the greatest harm to UK democracy, or that blockchain has a direct role to play in changing this situation. I do however believe in decentralised social networks and accept that blockchain may have a role to play in the governance of such platforms. But decentralisation of conversation is already happening without blockchain playing any part e.g. Mastodon, Matrix.
Sebastian Klemm: Throughout the programme and along the bootcamps with mentoring therein: What evidence of positive impact and benefits of the DLT4EU accelerator do you see already?
Katy Ho: DLT4EU has already raised the profile of many of the challenges from across the public sector in Europe. It has provided both challenge owners and startups on the programme the opportunity to align their understanding of how to work with each other, and explore further collaboration beyond the scope of the programme.
Robert Learney: We can already see that people are getting better at explaining what these systems and solutions are all about, and that there's a growing willingness and interest to learn about them from the challenge owners. We were extremely pleased to see that some of the startups have even been able to leverage their participation in the accelerator to better understand the challenges faced by public sector organisations, and in some cases to attract external investment.
Pierre Baisle: DLT4EU showed that DLT was relevant to start tackling real world challenges faced by public sector organisations or the citizens themselves in very different manners. Interestingly, it has also raised the profile of non-fintech great applications of DLT, which is still not a given for the great public. Eventually, this is a pioneering programme. The stakeholders involved have enriched themselves with tangible experimentations and gained visibility of the roadblocks that one needs to consider to get these things greater chances of success.
Sebastian Klemm: In our preceding interview about DLT4EU Alice MacNeil says: "One of my favourite experiences was with the Venture Teams as part of a Storytelling Masterclass by Hayley Bagnall of Altus Impact, as part of the Barcelona Bootcamp in November. It was rewarding to see how the teams shifted their narrative about what they were doing, from a technology-first perspective to a more social, impact-driven focus. Not only was it fun, but we learned a lot about how to tell the story of your project and the power of storytelling. DLT can be quite niche, and this kind of approach allows us to tell a better story to a wider audience, to connect DLT4EU to a more public and democratic space."
What have been some of your personal pivotal moments throughout the DLT4EU programme development so far?
Katy Ho: Building relationships between the challenge owners and the venture teams, helping the teams develop their roadmap and engage with a wider ecosystem.
Robert Learney: Understanding how early these technologies still are in terms of tech maturity, regulatory acceptance, general understanding, and how to map real world problems onto appropriate uses of DLT.
Pierre Baisle: Seeing people from two very different sides of the table, such as startups and challenge owners, work hand in hand and manage to overcome numerous obstacles together, to build and trial tech enabled solutions for the greater good at local scale in a tangible way is very exciting and carries good promises for the future.
Sebastian Klemm: What is your objective beyond the programme's winner announcements: How will you sustain your engagement beyond the final presentations at the European Commission in March 2021?
Katy Ho: Digital Catapult will continue to convene and grow the ecosystem of DLT innovators and connect them with challenge owners in the public sector. We are keen to see continued collaboration between these challenge owners and the venture teams beyond the programme, and excited for the impact of their success to motivate new partners to explore the potential of DLT.
Robert Learney: Digital Catapult is committed to ensuring more organisations understand the potential benefits of DLT to solve issues of multi-stakeholder coordination, particularly to address the big challenges of our day. We will continue to help public sector bodies grow their interest and understanding of distributed ledger technologies, and to support startups and scale-ups alike to rise to address any challenges brought forward for collaborative exploration.
Pierre Baisle: Thanks to our neutral position on the market and our key relationship with public sector bodies, Digital Catapult will keep fostering innovation that links together stakeholders from very different backgrounds, and work hard to create conditions in which the related initiatives and projects can be de-risked as much as possible. There is a lot that we want to keep developing and enabling in terms of applied innovation at scale under the technologies we cover.
---
Further readings:
DLT4EU article by Digital Catapult
---