"For me, one of the most important characteristics of distributed ledger technologies is that they help us think really hard about how to incentivise certain organisational behaviours," says Alice MacNeil in our interview, which is part of an ongoing "DLT4EU Interview Series".
DLT4EU stimulates cutting-edge distributed ledger technologies (DLTs) for public and social good by connecting the expertise of leading entrepreneurs and developers with real-world challenges and beneficiaries.
Alice MacNeil is the DLT4EU Programme Manager at the Metabolic Institute. She is responsible for the overall implementation and management of the six-month accelerator as part of DLT4EU, collaborating with Ideas for Change and Digital Catapult to achieve this. Key to this role is to ensure the Virtual Field Labs (VFLs) have access to the right resources at the correct time — whether that has been organising masterclasses in collaboration with subject matter experts, or connecting the VFLs to valuable networks, events and funding opportunities to ensure the Venture Teams take forward their innovation after the programme.
---
Sebastian Klemm: Which questions are actually asked far too little with regards to the deep economic reform we need to tackle in order to 'build back better' for generations to come?
Alice MacNeil: To build towards a better and more sustainable world, we need to increase resilience. The current crisis has clearly shown us the fragility of our modern economic system. A big part of that resilience is increasing the decentralization and distribution of key systems. Distributed Ledger Technologies and programmes like DLT4EU can play a big part in that.
Sebastian Klemm: Why is a "network innovation" approach critical to grow social equity and the health of our environment?
Alice MacNeil: A "network innovation" approach means to actively work with networks – or – ecosystems – of knowledge, skills, organisational types, locations with a portfolio of initiatives. Essentially, it means to recognise that innovation is often driven by an open, multidisciplinary approach while holding the principle of complementing what is around, and not competing or undermining each other.
This type of approach is especially powerful with outcomes that are collectively held or for public good – such as growing social equity and the health of our environment – as they are inherently about enabling people to work together and succeed.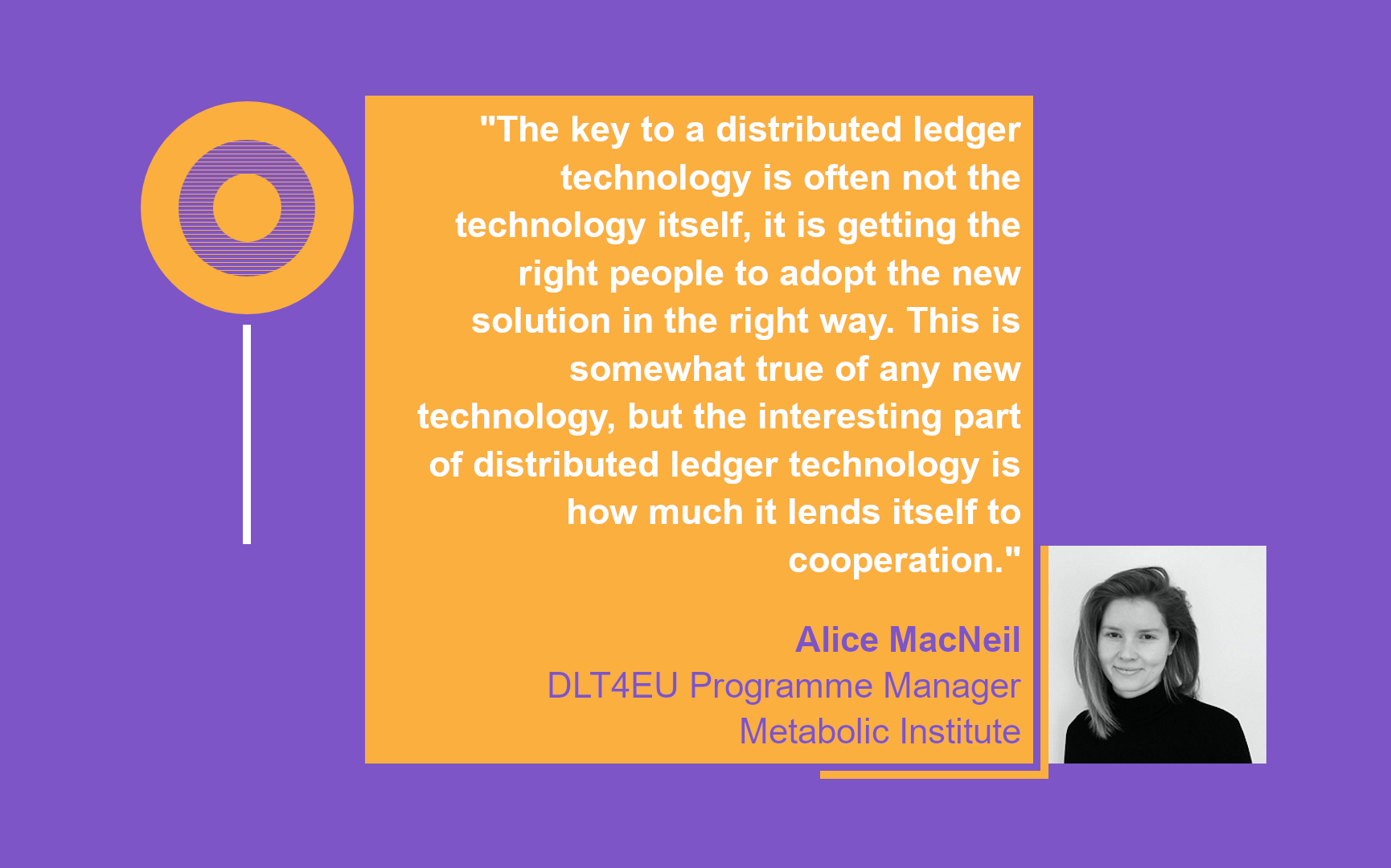 Sebastian Klemm: How can we evolve the corresponding mindset in order to succeed in networked innovation?
Alice MacNeil: It really comes down to putting in place an environment where co-ownership and co-responsibility of an outcome is normal. There are obvious mechanisms to help that, such as open and joint Intellectual Property or co-financing models.
Sebastian Klemm: What characteristics of Distributed Ledger Technologies (DLT) make them predestined to tackle social and environmental challenges across the European Union?
Alice MacNeil: DLTs certainly have a role to play in addressing social and environmental challenges across Europe, but predestination is definitely not guaranteed!
For me, one of the most important characteristics of DLTs is that they help us think really hard about how to incentivise certain organisational behaviours – because DLTs are, for example, often applied to use cases that require the coordination of multiple organisations across complex value chains, designers and users of the system need to programme the right incentives into the DLT that leads to the intended outcome.
For example if you are using a distributed ledger to trace a particular high-value good across borders, you are incentivising people to use a DLT because it helps with immutability of the information and the security of that claim. However, this only works if everyone contributes to that ledger in the right way. Hence the key to a DLT is often not the technology itself, it is getting the right people to adopt the new solution in the right way. This is somewhat true of any new technology, but the interesting part of distributed ledger technology is how much it lends itself to cooperation.
In other words, we need to step away from a technocratic starting point with DLTs, but instead look to the organisational behaviours underpinning why a DLT might be appropriate.
Sebastian Klemm: Generally speaking: What is the conventional objective of accelerators within the landscape of startups and incubators?
Alice MacNeil: Conventionally, accelerators target SMEs and start-ups that are approaching the scaling phase of their business maturity. This usually means, for example, that participants already have a basic product and service in development or production, they may even have users. Often these organisations are also either making money or have some funding, but need help to scale their solution.
Sebastian Klemm: In how far are you shaking the habitual startup code: What distinguishes your approach of the DLT4EU accelerator the way you pursue it with Metabolic, Ideas for Change and Digital Catapult?
Alice MacNeil: DLT4EU is the first European-wide experimentation of the Virtual Field Lab (VFL) concept. The DLT4EU accelerator is built upon the VFL concept of Challenge Owners and Proof-of-Concept prototypes (PoCs). Each participating venture team has developed their DLT PoC within a VFL – a virtual environment for DLT experimentation and development in response to a real-world challenge.
The challenge set within each VFL was defined and guided by the VFL's lead beneficiary – the Challenge Owner – and a network of mentors and experts. A curated acceleration programme supported the development of DLTs by providing technical expertise, business model development, legal guidance and impact assessment.
Sebastian Klemm: What have been some of your personal pivotal moments throughout the programme so far?
Alice MacNeil: One of my favourite experiences was with the Venture Teams as part of a Storytelling Masterclass by Hayley Bagnall of Altus Impact, as part of the Barcelona Bootcamp in November. It was rewarding to see how the teams shifted their narrative about what they were doing, from a technology-first perspective to a more social, impact-driven focus. Not only was it fun, but we learned a lot about how to tell the story of your project and the power of storytelling. DLT can be quite niche, and this kind of approach allows us to tell a better story to a wider audience, to connect DLT4EU to a more public and democratic space.
Sebastian Klemm: The DLT4EU programme pursues eight so called Virtual Field Labs. How did you find both the public sector organisations and their specific challenges and how did you team them with the participating DLT companies, so that they work together on corresponding solutions?
Alice MacNeil: It was very much an iterative process – we started by looking at the overall field of DLTs and in which industries, countries, and use case areas DLT solutions are being developed. From this we saw that there was consideration potential in the spaces of the Circular Economy and Digital Citizenship. We then worked with our Consortium Partners and a team of expert advisors, including the Joint Research Center of the European Commission, to identify potential Challenge Owners.
A thorough scoping exercise with each Challenge Owner then identified the most critical challenge areas to that organisation, which also had a commonality with other organisations across Europe. The Open Call then meant potential Venture Teams needed to apply directly to solve one challenge area.
Click here to go to DLT4EU finalists landing page.
---
Sebastian Klemm: The Virtual Field Labs have already accomplished all three virtual bootcamps, where they met with numerous experts and mentors. What evidence of positive impact could you witness among the teams and throughout the accelerator programme so far?
Alice MacNeil: Positive impact has manifested in a few ways throughout the programme – the main benefit to the teams has been the opportunity to work so closely together for a sustained period of time, especially with public sector and social sector organisations who may not have been able to experiment with this technology before, or engage in external innovation activities.
Secondary benefits we have seen are: access to new network connections for partnerships, an increase in new knowledge of funding types and routes, mentorship from subject matter experts, and increased success rate of securing funding due to participation. And as mentioned in a previous question, the ability to tell a better story and engage in a mission-driven venture!
Sebastian Klemm: What is your objective beyond the programme's winner announcements: How will the programme consortium sustain the raised momentum of co-development throughout the DLT4EU accelerator programme?
Alice MacNeil: Simply, we would just really love the teams to keep working together after the programme finishes. A core objective of the DLT4EU programme has been to catalyse new innovation relationships between entrepreneurs, DLT developers, and public and social good sector organisations – DLT4EU is the first step for many to a long-term experimentation with the technology.
A key part of our role over the past six-months is to help ensure these positive relationships develop and are successful, by providing a curated accelerator programme, mentorship from subject matter experts, and access to and matchmaking with new, high-value networks and organisations, like investors.
---
Further readings:
DLT4EU Public Launch Event Page
---