"To apply clean technologies at equal eye level, it is important to promote and establish guidelines for the transfer of knowledge and technology between developed and developing countries," says Vanessa Bolivar, drawing perspectives from her participation at the recent UN global climate summit COP24 in Katowice, which will be followed by the conference in Chile this year.
---
Together with Melissa Capcha you co-founded the NGO "Centro de Innovación Climática y Sostenibilidad". How did it come about? What are your goals and what means do you use to achieve these goals?
In 2014 I had the opportunity to participate in the Youth Climate Change Conference COY10, where I could share with other youth from all the world the difficulties of my home country Peru and at the same time learn from their own problematics and initiatives. This was a life changing experience. It allowed me to get a more globalized vision of what was happening and the urgency to act in order to avoid the irreversible effects of climate change.
One of our main problems in Latin-American is the lack of accessible and easy-to-understand climate change information. Therefore I decided to start writing for different digital media in Latin-America about climate change science and the UNFCCC negotiations. For around two years I took part in a non-profit Latin-American initiative where I was the climate change education coordinator. Later in 2016, I participated in the Climate Change Summer Innovation School of Climate KIC Europe. There I discovered another fascinating way of fighting climate change trough innovation. Sometime later, together with three amazing friends, we founded a social Startup called "Waterelief". However, after a bit more than one year of work we all decided not to continue.
After all these life experiences, my latent dream of starting a social-environmental initiative that contributes to the welfare of Peru took a more defined form. "If not now, then when?" I thought. With gained experience in this field, more knowledge and the same ideals, me and my dear friend from university, Melissa Capcha, decided to found the NGO "Centro de Innovación Climática y Sostenibilidad" in July 2018 and the team has grown since.
Our goal is to promote the sustainable development and innovation for climate change adaptation and mitigation in Peru while respecting the traditions and cultural heritage of the communities. We do this by educating, transferring knowledge and building technical capacity among local actors, as well as by promoting, conducting and disseminating applied research to create innovative solutions adapted to the local context. We pursue to cooperate with local communities, municipalities, German and Latin American NGOs as well as international corporations.
What made you when decide to get involved in climate protection? What resources have helped you grow your understanding for this field of expertise you are operating in today?
I decided to work in climate protection when I was 13 years old. At that age, I started as an environmental activist in my neighborhood. In my country, some people like to burn old things in New Year's Eve, so then I decided to go from house to house to raise consciousness about the effect of these emissions for the earth. Later, I decided to study environmental engineering. I have always been involved in different climate protection initiatives, till now where I am 30.
I would say that the combination of theoretical studies, training courses, the projects where I participated as well as my professional experience in Peru, Germany and other countries have shaped my current expertise. However, I still have a lot to learn and to apply.
Since you attended the UN climate summit COP24 in Katowice in December 2018: In what capacity were you at the climate summit?
I have had the opportunity to attend the UN climate summits COP24 as part of the Peruvian delegation. The delegations are usually assigned by the Ministry of Environment of each country and are integrated by the Environmental Minister, the negotiators, supporting team and in some countries by civil society representants that participate as observers in the negotiations. However, parallel to my participation as observer for the civil society, I have also been writing for digital media in Latin-American about the negotiations and I have organized and participated in discussion spaces inside and outside the COP venue around themes such as civil society engagement at UNFCCC negotiations, youth participation, climate change education, and recently at COP24 in a discussion forum about Opportunities and Challenges of Climate Innovation in Latin America.
What was the COP24 in Katowice about in particular?
The parties met at COP24 to make a deal on the so-called Rulebook of the Paris Agreement. Fortunately, they achieved a consensus. The rulebook includes the guidelines for the implementation of the Paris Agreement in the next decades, starting by 2020. In other words, it establishes the rules how to articulate and report the mitigation, adaptation, technology transfer, capacity building and climate finance actions that every country executes.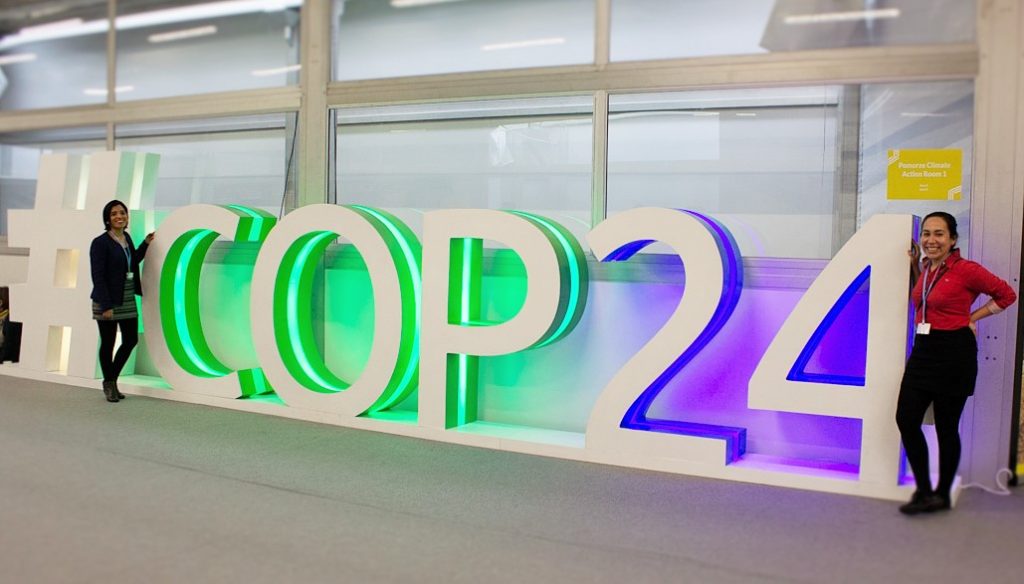 What are the relevant outcomes of the summit? Perhaps, what are the summit's possible shortcomings?
The most relevant outcome is that the Paris Rulebook was adopted, which includes how to track and report climate action for all countries. Regarding further guidance in relation to mitigation, the scope of the NDCs Nationally Determinded Contributions was set out. Though mitigation actions are the core of the NDCs, countries can also include adaptation actions and means of implementation, if they want. It is also mentioned that developed countries should focus on emission reductions while developing countries on mitigation, the so-called differentiation.
There were also outcomes on guidance for reporting and accounting for the NDCs. However, the further guidance on the NDC's features was postponed for future talks, and all these common guidelines will be applied only 2020 onwards, which means that they do not apply for the current NDCs.
Regarding climate finances, countries will start reporting their mobilization of climate financial flows from 2020 every two years, however, it was not defined which type of finances. But most importantly, they could not reach an agreement on a new collective goal from a floor of 100 Billion USD per year, that considers the needs and priorities of developing countries. Without the adequate financing many of the national climate national plans can not be implemented.
In addition, the guidelines for transparency were adopted. They include emissions inventory (this time based on IPCC 2006), NDC, adaptation, technology transfer, etc., which will enter into force from 2024 and the reports should be submitted every two years. As we can see, in relation to the form of the text and the reporting, many progresses were done.
As we can see, in relation to the form of the text and the reporting, many progresses were made. However, regarding the ambition of the text, the outcome received many critics. The final COP24 decision just welcomed the timely completion of the last IPCC report, but it did not mention concrete measures to stay below 1.5 degrees Celsius in the period 2020-2050, what the latest science warns us of. We should remember that the aim of the Paris Agreement is to keep a global temperature rise this century well below 2 degrees Celsius above pre-industrial levels and to pursue efforts to limit the temperature increase even further to 1.5 degrees Celsius. Yet, given that the global temperature already reached 1 degree Celsius by 2019 and it continues increasing, the current goal seems not to be enough.
Quoting Katie Patrick in her book 'How To Save The World': "The key question to ask is, 'Where is the evidence that your efforts have made a measurable result?' Ask it of yourself and of any social change project you are involved in. When we're trying to change the world, all that matters is that we make an impact that is measurable, not in clicks, meetings, or shares, but in real world data you've shifted by the end of the day." – source: https://bit.ly/2F1iyLQ
Governments and the private sector require clear climate guidelines: How can the impacts of NDCs National Determined Contributions be measured: How can a Paris-Agreement-conformity be evaluated & reached, indeed? How does the Paris Rulebook work?
The Paris Rulebook offers guidelines to measure the progress of the implementation of NDCs. Yet, there is still a lot to do and much of this work was postponed for future sessions. In addition, these guidelines to report the NDCs do not set binding responsibilities. In other words: Till now every country is free to decide how much they contribute to respond to climate change, the time frame and the baseline. In the same way, countries can independently determine which sectors they want to prioritize and which strategy they will adopt.
What measures for climate protection do you see which we can adopt in our personal lifestyles?
I think there are many things we can do. For example, meat production has a very high impact on climate change, for 1 kg of beef around 25 kg of CO2 are emitted to the environment, while for a lettuce or other no-meat product only around 0.5 kg of CO2 are emitted. I am personally not a vegetarian, I do like beef, however, I try to reduce my consumption pretty much, in the best case once every two weeks.
There are many more individual measures that we can take, like using the bike or the train instead of the car. However, due to the current climate trends, that would not be enough without assertive political action. Therefore, I encourage everybody to also commit to the political decisions that shape the destiny of our societies. We can read more news about climate decisions not only at the international level but also at the national and local level. Information is the key. We can start by reading the NDCs of our country.
We can also discuss what we have learned with our friends, colleagues and families. We should not be afraid to talk about it. If possible, we can also attend demonstrations to express the urgency of more climate action – together we can be listened. We can consider climate policy as a criterion when selecting our political leaders. They will represent us and decide for us not only regarding job creation or health, but also in regard of climate change and our future. It is very important, not to give up. There is always something that we can do. We just have to make an effort and find out how we can contribute with our work, with our home, with our educational institutions or everywhere we are.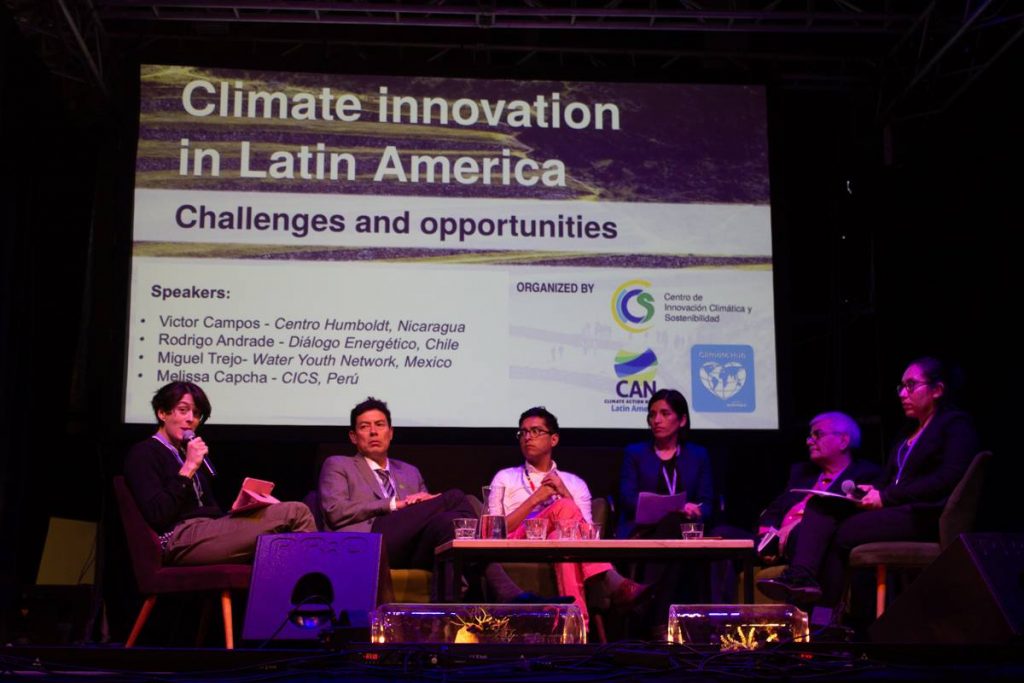 Quoting Ann-Marie Zachrisson from our previous proofingfuture interview: "Is it possible to have a creative and push-forward development without exposing the environment and draining our rescources? – Of course we can! We just need to make changes and learn how to think in a different way." – source: https://bit.ly/2EWollJ
Thus, how do we shake our habitual and get ourselves thinking outside the boundaries of our usual mental templates? Which different way of thinking do you encourage with respect to climate protection?
I think, to go further than our mental boundaries, it is very important, to sometimes think outside of our house, our family, our village, our city and even our country. It can be the case that we were lucky and we do not directly face the social and environmental effects of pollution and resource exploitation. However, everything we buy or we do has an impact if not in our country then somewhere else in the world.
Only when I got to know stories of real people suffering the impacts of climate change for example in Tuvalu, did I realize that there are countries even more in danger than mine, where many lives are at stake. What hope do they have by the year 2050? What hope do those in African regions have that are suffering of extreme droughts – and not in 2050, but now in 2019? We may not live in African regions or in Tuvalu, but we have plenty of access to information, which is the key to everything. We need to wake up the solidarity spirit, which we all have.
What do you understand by clean technologies? How can clean technologies be designed sustainably in themselves?
That is a very interesting question. I remember that I once asked a Peruvian expert on renewable energies during a seminar about his definition of clean technology. He told me that there is not an universal definition, and now I actually realize that it is like that. I used to think that clean technology was something related to the use of renewable energies, that these would be 100% clean. However, it can be any process, product, or service that reduces negative environmental impacts through significant improvements. The question is: How much improvement? – That depends on every country. In mine for example, an investment in shifting from oil to gas machinery is considered an investment in clean technologies.
In my opinion, clean technologies should be designed sustainably themselves. Otherwise the life cycle assessment of the product will tell us that this technology is maybe not as clean as we thought. To name an example for sustainable design: Last year, I was working in the developing of processes for the recycling of nutrients with the use of passive membranes. The process itself required less resources and at the same time consumed less energy and created no further emissions in comparison to other processes for similar purposes.
Quoting Dr. Jemma Green from Power Ledger in our previous proofingfuture interview: "We are conscious that developing countries are likely to repeat the mistakes of the developed world when it comes to energy, resulting in electricity that is unaffordable for those who are most vulnerable. I am determined to help facilitate renewable energy projects and technology to connect and empower communities." – source: https://bit.ly/2QOsGLD
How can all countries apply clean technologies at equal eye level – to develop their own economies without repeating the mistakes of the industrial past?
Coming from a developing country, I would say we can, and we have the opportunity to shift not only to clean technologies but to renewables. Countries like mine have an emerging and growing economy, which holds the chance to avoid the mistakes of the industrial past.
To apply clean technologies at equal eye level, it is important to promote and establish guidelines for the transfer of knowledge and technology between developed and developing countries. In addition, the further development of the clean technologies should be adapted to the local necessities and integrated to the local context, which requires not only technological development but also a social and environmental assessment. Political will and climate financing are key to this type of innovation.
Are global climate damages primarily attributable to industrial development in the industrialized countries?
According to the IPCC, since 1970, the global average temperature has been rising at a rate of 1.7°C per century, which coincides with the beginning of the industrialization. Thus, the answer is clear. Even if there are many other theories which say the opposite. According to the highest committee of climate experts of the United Nations, climate change is mainly caused by human activities and the use of fossil fuels. In 1992 the United Nations defined a list of Annex 1 countries, the so-called developing countries, which later in Kyoto committed to reduce their Greenhouse emissions by 2000. Why did just developing countries assume these responsibilities, given the evidence of industrialized countries contributing so significantly to climate change?
Is it necessary to balance the environmental impacts in the form of repair payments for the preceding decades of industrialisation in the developed world?
Yes, it is. This topic has also been discussed at the negotiations, however there is still not a consensus. Developing countries, who are the ones who are receiving and will receive the most severe impacts caused by climate change do not have enough financial resources to adapt and to compensate the loss and damages that climate change is causing. Just to give an example, the rise in sea levels could force anywhere between 100 million and one billion climate refugees from their homes and into those parts of the globe spared from flooding. Therefore, the developing world is claiming for much larger flows of climate finances, where the industrialized countries should be the principal donors.
Quoting Elon Musk: "All fossil powered things have an inherent subsidy which is their consumption of the carbon capacity of the atmosphere and oceans. People tend to say: Why should electric vehicles have a subsidy? But they are not taking into account that all fossil fuel burning vehicles are subsidized by the environmental cost to earth. But nobody is paying for it. Though, we are going to be paying for it, obviously. In the future we will pay for it. It is just not payed for now." – source: https://bit.ly/2R39qLf
What is needed to achieve a fair, just & eco-friendly socio-economic system? What are the most pressing measures we ought to take as societies in this regard in your point of view?
I think, first we need to acknowledge we were wrong for many decades, we are still wrong and if we do not change, there will be no hope for us as humanity. Only if every one of us starts to feel their responsibility and takes real action at the individual and also at the community level, we may live in a fair, eco-friendly socio-economic system. To have a conscious and committed society, we need to educate our people, listen to them and invite them to be part of the decision-making processes. This is, however, a process that takes time and we do not have that much more time now. Therefore, we should work on education and civil society participation but at the same time it is urgent that at least some countries assume a leading role and start to lead by example, so then the other countries will follow them. It is urgent that countries decarbonize their economies and shift to a no consumerism model, which will imply structural changes at all levels and will require at the same time a strong commitment of citizens and governments.
Quoting Greta Thunberg at COP24: "Until you start focusing on what needs to be done rather than what is politically possible there is no hope. We cannot solve the crisis without treating it as a crisis. We need to keep the fossil fuels in the ground and we need to focus on equity! And the solutions within this system are so impossible to find that maybe we should change the system itself." – source: https://bit.ly/2ZjekGV
What alternative system do you imagine? How can global, intergenerational equity & sustainability function?
I imagine a system based on the use of renewable energies and a restricted use of fossil fuels for very specific processes but no for energy production. I imagine a more efficient and circular economy system, where resource efficiency is not seen only as the solution to continue fueling a consumption society, but as the way of generating a positive impact. I wish for all of us a solidarity-based world driven by love, social equity and the respect of human and intergenerational rights.
Is it appropriate if we only neutralise our harmful emissions? Is doing less bad good enough?
I would say that it is not enough. According to the IPCC, we have only 12 years to reduce the worldwide CO2 emissions to at least half of our current emission levels in order not to reach the 1.5°C. In this context, even if forests can storage CO2 for decades, it also takes them many years to grow. Unfortunately, we are running out of time.
On the other hand, to neutralize most of the emitted CO2, a lot of forest area will be required which may compete with agriculture. Additionally, many carbon storage technologies are still being developed and the few ones that are fully developed do not have market competitive prices. In my opinion, emissions reduction is a must
How easily can we go beyond neutralisation and achieve actual positive socio-ecological effects, a positive footprint that helps life to thrive, instead of only mitigating negative consequences of our actions?
Based on the current trends of the industry, the current national climate change commitments and the international policy, I would say it is not going to be easy to go beyond neutralization, but we have to. For the latter, we need a stronger, binding and more ambitious climate change policy at the international and national level.
How can companies and factories reimagine themselves as a positive ecosystem and become net-positive facilities?
I think companies can reimagine themselves and have a positive impact on the environment through applied research and innovation, not only at the supply chain or at the process level but also at the product designing phase, so that the product itself has also a positive social and environmental impact.
To innovate, companies can for example be inspired by processes that have been taking place in the nature since millions of years, such as carbon sequestration, nutrient recycling, air filtration, water storage, etc. I believe companies can do that, but for that they need to have the will.
---