"The great potential with SurveyStack is really to allow for the aggregation of data without commodification. We can aggregate without losing resolution, sovereignty and control over data. We can aggregate without losing attribution and that is a really powerful pathway, because of what it allows us to do. One of the core orientations that OpenTEAM has taken – that I think is really important to large-scale collaboration – is focusing on the way in which we ask questions – the way we ask questions together," says Dr. Dorn Cox, project lead and founder of Open Technology Ecosystem for Agricultural Management – OpenTEAM.
Dr. Dorn Cox is project lead and founder of OpenTEAM, a nonprofit research and education center, and research director for Wolfe's Neck Center for Agriculture & the Environment, a working organic farm of conserved land on the coast of Maine. He also manages his family's diversified farm in New Hampshire with his wife Sarah.
As co-founder of the FarmOS software platform, the GOAT Gathering for Open Agricultural Technology and the Farm Hack community, he is passionate about sharing open source agricultural tools, ideas, information, and inspiration to accelerate innovation and quantify environmental services from regenerative agriculture.
In 2018, his work was recognized with the inaugural Hugh Hammond Bennett Award by the National Association of Conservation Districts, and in 2019, Dorn was awarded the Food Shot Global Ground Breaker prize. He has a PhD from the University of New Hampshire in Natural Resources and Earth Systems Science.
---
Sebastian Klemm: What is the mission of OpenTEAM? How does it achieve this?
Dorn Cox: OpenTEAM is expressed fairly well within its acronym as an Open Technology Ecosystem for Agricultural Management. Open, because as we move towards demanding more of agriculture, we are moving from defining it as a solitary private enterprise into agriculture creating valuable public goods – from biodiversity to climate management and stabilization to wildfire suppression, drought and flood mitigation.
All of these things require large-scale collaboration over generations and creation of data in the public domain, which means that agriculture becomes a public science, shared science and a system science. In order for that knowledge to be shared and to be trusted we believe it needs to be open.
We have tools and technologies to be able to make that part of nature that is invisible, visible and valuable. But it is not the individual tools and technologies, it is their context, the open technology ecosystem that is really critical.
Because to gather the whole view, individual technology or organizations alone are not sufficient. It is the agricultural, scientific and technology communities together that make interoperability work, and be able to aggregate and describe the whole. Because, unlike other large-scale public sciences – like deep space or ocean exploration – it is not enough just to understand it, it actually needs to be applied.
For agricultural knowledge to be useful, it actually has to be accessible to all of land stewards, the farmers and the ranchers – regardless of scale – to be able to put the best available knowledge into practice. So, we are building the social and technical infrastructure for an applied system science and it needs to be trusted and therefore open. So that is what OpenTEAM is in a nutshell.
How we achieve that vision is essentially through creating new collaborative organizational structures that bridge from our current environment that has been set up around siloed research universities and companies and public and private entities within their own domains. Really to achieve the scale that we need – it requires collaboration across those boundaries.
Interoperability means working together. OpenTEAM is achieving this vision of large-scale public science very much the way that the early open source projects were created – things like the Hadron Collider or the Human Genome Project or the sort of the roots of large-scale collaborative efforts – and through a necessity, which is creating both the social norms and organizing structures to collaborate, to allow for aggregation with autonomy and interoperability.
We are then creating tools and technologies with those social norms and organizing structures to allow us to create something greater than we are able to do individually and be able to cross boundaries across disciplines.
OpenTEAM is now more than 45 organizations representing public and private entities, food companies and agri-ecosystem markets and research universities and farmer and rancher networks that create this ecosystem and bring together professionals that otherwise would not connect to collaborate to create solutions that would be otherwise impossible to do within their own context.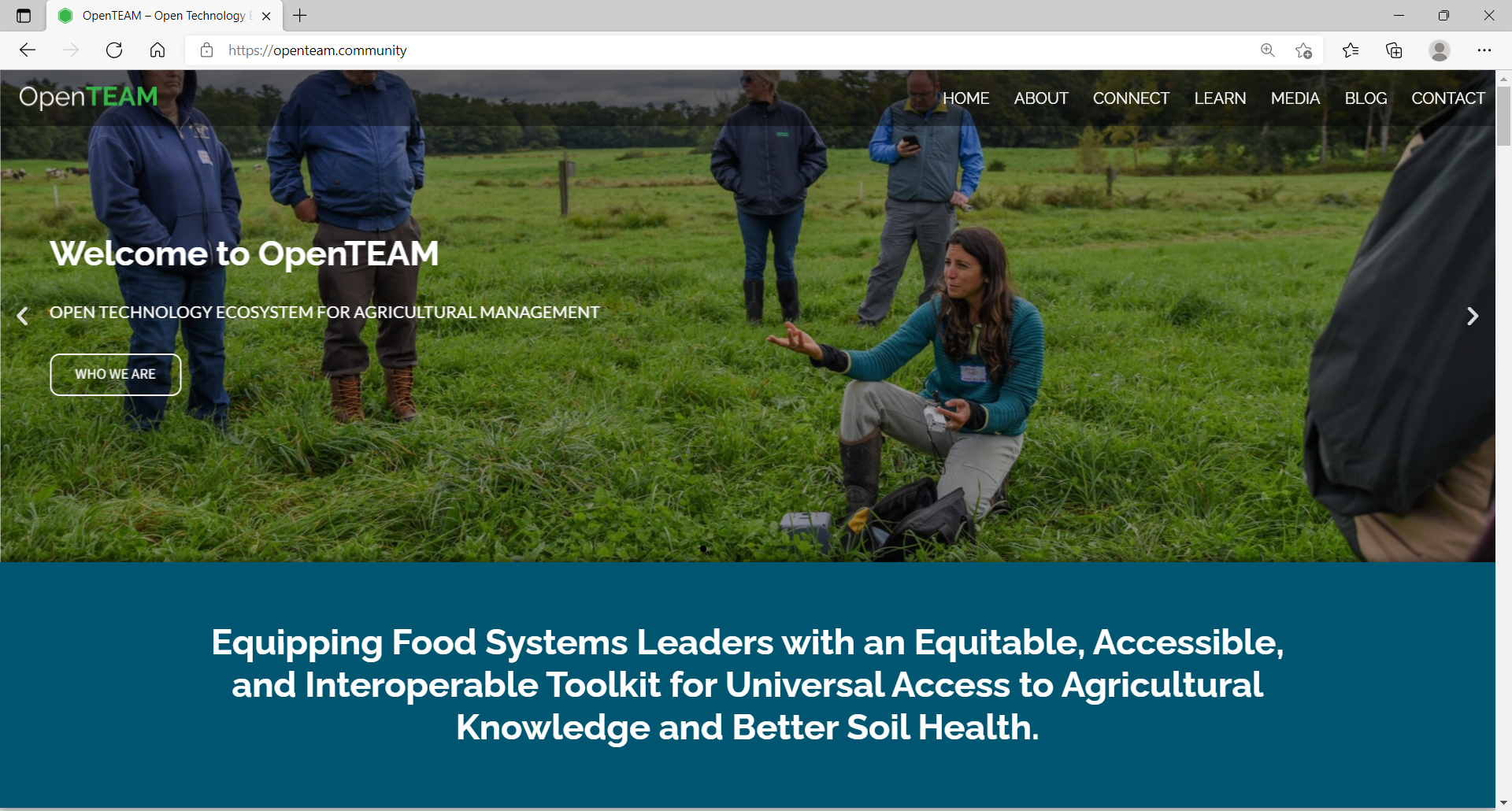 ---
Sebastian Klemm: In a previous interview, Dan Kittredge from Bionutrient Food Association says: "Before openTEAM was established we started GOAT and funded the first GOAT hack, which was basically the Gathering for Open Ag Tech, out of which OpenTEAM coalesced."
What have been defining moments that led to OpenTEAM evolving from "GOAT – Gathering for Open Ag Tech"?
Dorn Cox: OpenTEAM is really an outgrowth of more than a decade's worth of work that built on efforts like the Gathering for Open Ag Tech or GOAT, which was built on efforts like the Gathering for Open Science Hardware and FarmHack and other initiatives that were merging across disciplines.
The Gathering for Open Ag Tech was essentially building on those other efforts to organize and build a roadmap in terms of what is necessary to achieve this broader vision of open science, technology and agriculture. This is articulated similarly and aligns closely with the FAO "Scaling up Agroecology Initiative" by which the FAO generated a statement that calls out the need for open ag tech to meet global sustainable development goals.
The Gathering for Open Ag Tech was a defining moment. It was a time to bring together a group of collaborators to build a roadmap that has then created the template for that OpenTEAM then built on. That community continues to exist in of itself and I almost see OpenTEAM as a funded subset of that work and project.
Sebastian Klemm: How have the tools that Our Sci has co-developed with you served your mission at OpenTEAM?
Dorn Cox: Our Sci is building some of the key utilities for conducting large-scale public science. One of the core orientations that OpenTEAM has taken – that I think is really important to large-scale collaboration – is focusing on the way in which we ask questions – the way we ask questions together.
What we have found in terms of creating large-scale collaboration, is that often there is a lot of debate around the answers, but a lot more unity about what we are trying to discover together. We see this in agriculture and the debate about organic or non-organic, or GMO or others, but far more unity when we ask questions about how to improve soil health.
What we are trying to address in terms of the questions and those approaches we can actually come together on. I think that is the key architectural feature that we are focusing on within OpenTEAM, and also that Our Sci and the SurveyStack approach promotes.
It allows us to begin to coordinate and make clear and share the questions we are asking and how we are asking them, because that is important too. SurveyStack essentially allows that process to happen and to version those questions through a collaborative process as well.
There is the question library that becomes searchable, so you can see Who is asking which questions and How are they being maintained and What are they used for.
All that visibility is really critical to allow for both people to ask their own questions, but to get more out of the questions they are asking and find others that are asking similar questions. That is a really fundamentally different orientation and I think a very powerful one and a large contribution to the work of OpenTEAM.
Sebastian Klemm: When you think back – spreadsheets, forms, complexity, non-scalable, values non-aligned: How did you conduct similar work before SurveyStack?
Dorn Cox: That is a good question. We really did not have a good substitute. There were other basic survey tools, but they did not perform powerful core functions we now have available.
Before we had SurveyStack we used spreadsheets and Google forms, entered data directly into farmOS or other farm management tools, but the missing concept of collaborative question sharing behind SurveyStack was a clear need and that is now being addressed.
Sebastian Klemm: With a blue sky perspective: What potential do you see with SurveyStack? Why is it exciting?
Dorn Cox: The great potential with SurveyStack is really to allow for the aggregation of data without commodification. We can aggregate without losing resolution, sovereignty and control over data. We can aggregate without losing attribution and that is a really powerful pathway, because of what it allows us to do. This has led us to several other concepts within OpenTEAM in terms of data sovereignty and the concept of an Ag Data Wallet.
Essentially, the ability for those in the food systems – land stewards, farmers, ranchers and their community members – to be able to enter their data once, be able to use it many times while controlling their own data sovereignty, and to be able to track their data in terms of how it is being used across the supply chain, environmental markets, or for research purposes.
SurveyStack occupies a crucial role in the ecosystem, along with other tools being developed across the OpenTEAM ecosystem that make concepts like the Ag Data Wallet possible.
And also – coming back to the question perspective – allowing us individually to collect data or ask questions that are important interesting to us and our needs but be able to also contribute to others asking different questions using our same observations in different ways without losing attribution – that is just really exciting and opens up far greater incentives for collaboration: We can ask a question once and use the answer in many ways. And to be able to again answer questions of different scales – from our own backyard, to our watershed, our bioregions, and ultimately globally.
Whether you are an individual producer where you are interested in improving your soil health, productivity and resilience of your own farm or ranch, that same data can then also be used to help understand the watershed and that has value.
It can be used to provide feedback in terms of what to grow next year and to improve the plant selection in the following year. In that way just add values that again add public value that we are producing without losing control at the farm level. SurveyStack has a lot to do with providing the foundation for that vision.
Sebastian Klemm: How did the collaboration between OpenTEAM and Our Sci inform the SurveyStack solution?
Dorn Cox: The team behind Our Sci has been involved before OpenTEAM existed. I wrote about some of Greg Austic's projects as part of my doctoral work with PhotosynQ systems and the approach to large-scale citizen science efforts.
Our Sci has a long history of contributing to OpenTEAM and particularly as we rolled out the concept of OpenTEAM and the basic architecture that we began to implement ast the foundation of OpenTEAM.
Our Sci's question orientation really stood out. It is not an accident that OpenTEAM is focused first and foremost on providing data to improve soil health. The concept of soil health itself is essentially a question in and of itself. I think that there was a core alignment on that architecture. Soil health is a measurable outcome and change over time – how you get there – is really open to creativity. I think that was a key contribution very early on from the Our Sci team in engaging as a founding member of OpenTEAM and bringing that orientation.
---
Sebastian Klemm : What are the next challenges you aspire to tackle with OpenTEAM?
Dorn Cox: There are several time scales to focus on. We are very much interested in stewarding the concept of the agriculture knowledge commons and enabling the tools that allow for this aggregation without commodification and be able to create provinence of claims dence and value and control at the producer level.
The Ag Data Wallet is a core concept and tool that we are currently stewarding. I think that is really important and will enable things like a digital certification of outcomes and practices that can open up new values and opportunities for individual producers while democratizing access to markets without losing autonomy.
There are obviously key challenges around that, both socially and technically. I think, that is the balance that we work within OpenTEAM, that is both creating the governance and social structures to generate the necessary trust that is manifest in the technology and in the relationships that are necessary to move these systems forward.
That is where we are simultaneously working on developing a community, a community platform and digital intermediaries in the field as we access and co-create new tools with data sovereignty and trust as the foundation for moving forward.
Some of the great challenges we see areis that new public goods – that are being produced from agriculture – are ethereal, they are based on data and the confidence in that data. And we have a desire to be able to understand the invisible attributes that and create incentives for improvement by making these visible and valuable.
The opportunity is, to create the value of nutrient density, the value of climate benefits. the value of biodiversity benefits and the value of climate resilience benefits that come from these new systems. All require a trusted source of reference data to have confidence in those claims and to be able to create new relationships to those. Being able to stack thosevalues and to have them recognized by those who have produced them – the farmers and the ranchers – requires new systems, new systems of trust and new systems of exchange and new systems of hosting theat information and the identity and the claims.
Some of the work that we are doing is also around the concept of Environmental Claims Clearinghouse which is essentially the ability to be able to stack these claims, but not double count. That is one of our great challenges and opportunities that we are leading at OpenTEAM.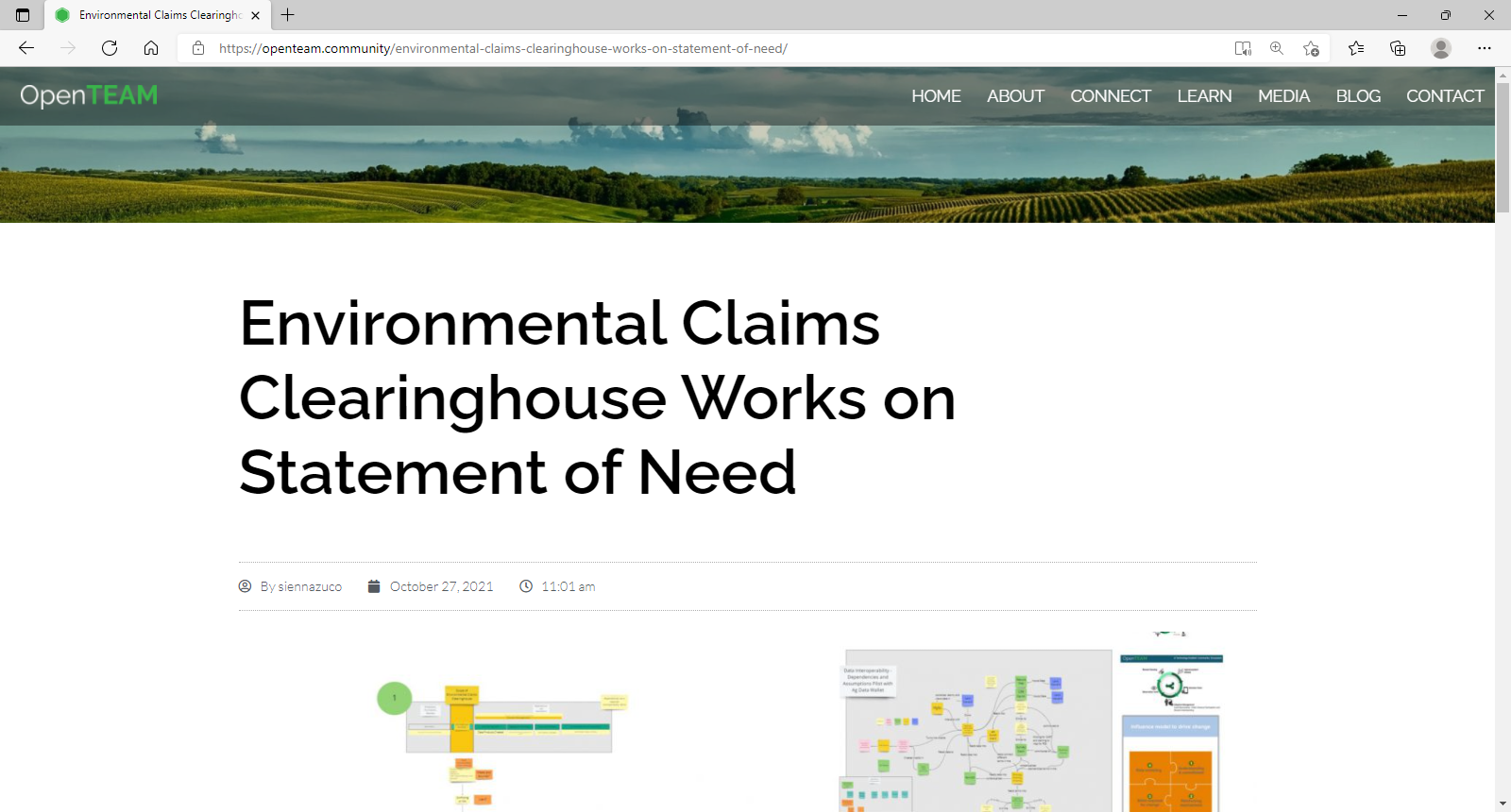 ---
Explore OpenTEAM
Explore Our Sci
Explore the Survey Stack App
Reach out to Emily Brady at Our Sci to request a SurveyStack demo walkthrough